Award Winning Massachusetts Lawyer based in Winchester MA
Attorney Richard Mucci is a successful  lawyer based in Winchester Massachusetts who is dedicated to providing outstanding client satisfaction. His full-service law practice helps individuals and companies reach their personal and professional goals through cost-efficient negotiation and litigation results. He brings a no-nonsense and focused approach to every case.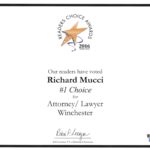 Several Areas Of Massachusetts Legal Expertise
Attorney Richard Mucci possesses expertise in the fields of business, construction, employment, real estate and personal injury law while maintaining general litigation skills that are valued in all disputes throughout Massachusetts. He has represented his clients in breach of contract disputes, payment disputes, employment disputes, shareholder rights disputes, construction disputes, lien disputes, real estate disputes, trusts disputes and disputes involving fraud. He also has experience prosecuting and defending employers and employees in discrimination and wrongful termination cases.
Mr. Mucci has particular experience representing individuals, small businesses, developers, general contractors, subcontractors, suppliers, material men, distributors, restaurants, owners, shareholders, property owners, landlords and tenants located in Boston MA and Greater Boston MA.
Successful Trial Attorney in MA
Richard Mucci is a trial attorney skilled in both civil and criminal matters in MA. He has successfully tried numerous cases, both to juries and to the bench. Relying on his experience as a seasoned trial attorney, he advises clients with respect to all options in resolving their legal matters while fully considering the client's objectives, costs and time constraints.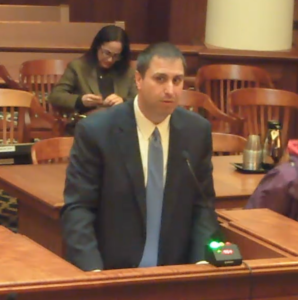 He also has extensive experience and expertise in criminal defense where he has frequently represented defendants in state courts. He has tried over 50 jury and jury-waived criminal cases and has successfully disposed of numerous other criminal matters prior to trial.
Comprehensive Litigation Experience
Previously, Richard Mucci worked as an assistant district attorney for the Middlesex District attorney's office where he was the supervisor of Lowell and Framingham MA District Courts. Upon leaving the district attorney's office, he litigated direct recovery actions on behalf of the second largest property and casualty insurance company in the United States with a concentration involving the federal RICO statute. He litigated and/or consulted on racketeering cases throughout Massachusetts, Connecticut, New York, Pennsylvania, Arizona and North Carolina. Just prior to establishing his own firm, he was a successful civil and criminal litigator for a well-known Boston law firm.
Richard Mucci received a B.A. from the College of the Holy Cross in Worcester, Massachusetts, where he double-majored in history and sociology. He was awarded his J.D. from Suffolk University Law School in Boston, Massachusetts. He is a member of the Massachusetts Bar Association and is admitted to practice in the United States District Court for the District of Massachusetts.
Caring For The Winchester Community and surrounding cities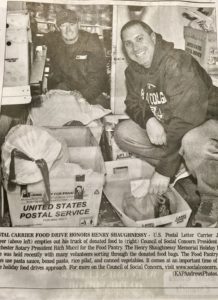 Away from the office, Richard Mucci is very involved in the Woburn and Winchester MA communities: he is president of the board of directors for the Woburn's  MA Council of Social Concern and on the board of the Winchester Chamber of Commerce. He is also the president-elect of the Rotary Club of Winchester MA. His charitable work was recently recognized by the Rotary Club of Winchester when he was named a Paul Harris Fellow.
You Need A Strong Advocate On Your Side
To see how the Law Offices of Richard Mucci can help with your legal matter, contact us online or call us at 781-729-3999 and schedule an initial consultation at our Winchester, Massachusetts, office.
CONTACT RICHARD MUCCI FOR A FREE CONSULTATION
Choosing an attorney can be difficult. That's why we offer free initial consultations to help you get started. Fill out the form below, or call
781-729-3999
today.